Plasma Consumables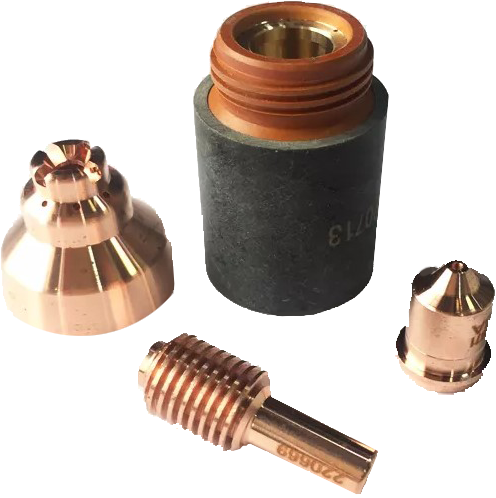 Genuine Hypertherm Consumables
Manufactured to the highest standards, genuine Hypertherm torches and consumables enhance cut quality, extend consumable life, and boost productivity at the lowest possible operating cost.
We Stock A Range of Consumables for the following machines
Powermax-30
Powermax-45
Powermax-45XP
Powermax-65XP
Powermax-85XP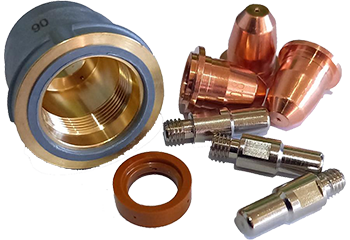 Miscellaneous Plasma Consumables
We also carry a selection of quality consumables from other manufactures to suite a range of machine and torch manufactures.
We Stock A Range of Consumables for the following machines
GYS Cutter 45
GYS Cutter 30FV
GYS Neocut 125
Plasma Cutters with "Trafimet" style torches
Gas Cutting And Welding Torches
Gas Cutting Torches

A cutting torch provides one option for cutting through metal, ranging from small pieces on a jeweler's bench to large pieces involved in the construction of a building. A number of safety precautions are required when working with a cutting torch, because these devices can be extremely dangerous.
We Stock
Length in inches / Angle of head in degrees
18 / 90
36 / 75
48 / 75
Lightweight & Type 5 Cutting Torches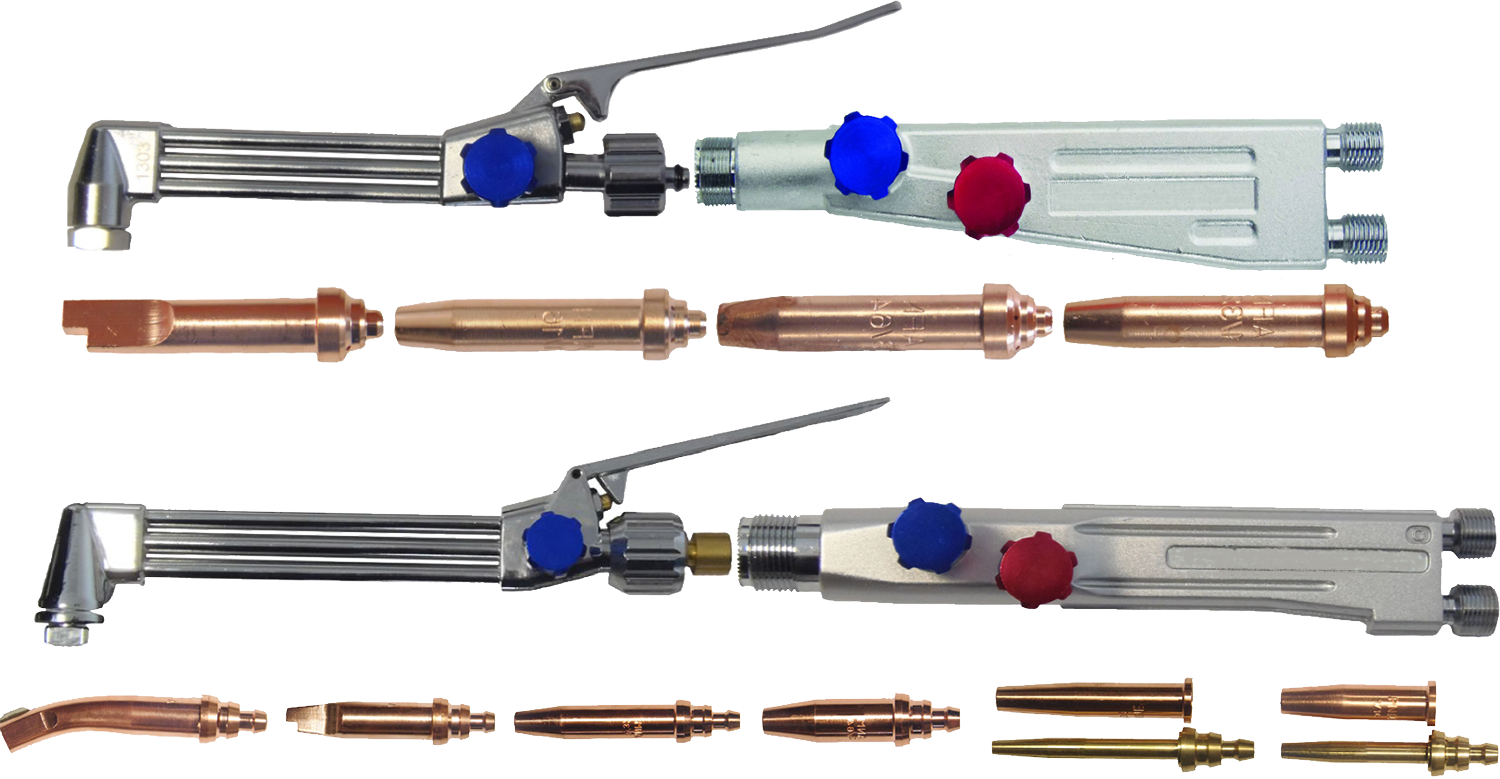 A cutting torch head is used to cut materials. It is similar to a welding torch, but can be identified by the oxygen blast trigger or lever. When cutting, the metal is first heated by the flame until it is cherry red. Once this temperature is attained, oxygen is supplied to the heated parts by pressing the oxygen-blast trigger. This oxygen reacts with the metal, producing more heat and forming an oxide which is then blasted out of the cut. It is the heat that continues the cutting process. The cutting torch only heats the metal to start the process; further heat is provided by the burning metal.
Lightweight & Type 5 Welding Torches

A welding torch head is used to weld metals. It can be identified by having only one or two pipes running to the nozzle, no oxygen-blast trigger, and two valve knobs at the bottom of the handle letting the operator adjust the oxygen and fuel flow respectively
We Stock
Type 5 & Lightweight shanks
Type 5 & Lightweight mixers
A selection of welding nozzles to suite your torch style and application
A selection of oxy propane & oxy acetylene cutting nozzles to suite your torch style and application
Regulators & Flashback Arrestors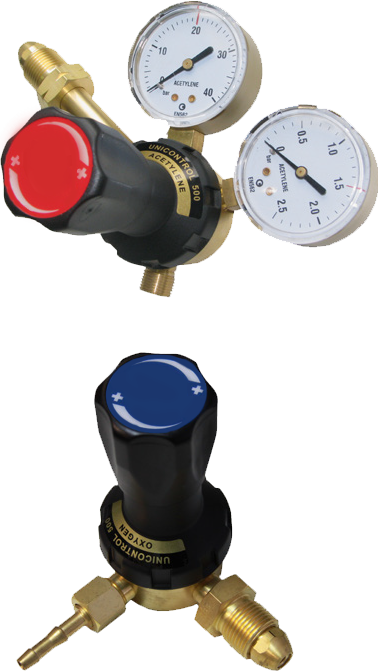 Acetylene, Propane & Oxygen Regulators
The regulator ensures that pressure of the gas from the cylinders matches the required pressure in the hose. The flow rate is then adjusted by the operator using needle valves on the torch. Accurate flow control with a needle valve relies on a constant inlet pressure. There are two types of regulator, a single stage regulator which will reduce cylinder pressure to delivery or outlet pressure in one step or a two stage regulator which will reduce cylinder pressure in two steps. The regulator usually has two pressure gauges, one indicating cylinder pressure, the other indicating hose pressure. The adjustment knob of the regulator is sometimes roughly calibrated for pressure, but an accurate setting requires observation of the gauge.
When is a two-stage regulator required?
Applications where the delivery pressure rise from cylinder pressure decay cannot be tolerated.
Situations where proper pressure is critical and the cylinders in use are in a remote or difficult to monitor location.
Typically are not required when using gases from low pressure sources.
We Stock
Plugged regulators
Twin gauge regulators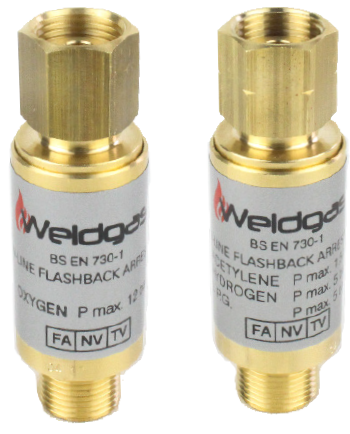 Oxygen and Fuel Flashback Arrestors
A flashback arrestor is a gas safety device most commonly used to stop the flame or reverse flow of gas back up into the equipment or supply line. It protects the user and equipment from damage or explosions. These devices are mainly used in industrial processes where oxy-fuel gas mixtures are handled and used. Flashback arrestors as safety products are essential to secure the workplaces and working environment.
All our flashbacks are from EU origin & conform to all current safety standards
We Stock
Fuel Flashbacks
Oxygen Flashbacks
Gas Hoses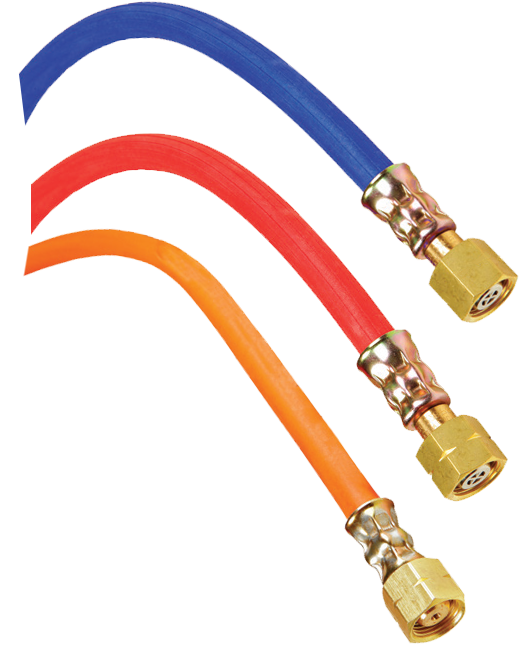 Acetylene, Propane & Oxygen Hoses
The hoses are designed for use in welding and cutting metal. Hoses should be clipped together approximately 1m apart, although that is not recommended for cutting applications, because beads of molten metal given off by the process can become lodged between the hoses where they are held together, and burn through, releasing the pressurised gas inside, which in the case of fuel gas usually ignites. The hoses are color-coded for visual identification. The color of the hoses varies between countries. In the United States, the oxygen hose is green and the fuel hose is red. In the UK and other countries, the oxygen hose is blue, and the acetylene hose is red. If liquefied petroleum gas (LPG) fuel, such as propane, is used, the fuel hose should be orange, indicating that it is compatible with LPG. LPG will damage an incompatible hose, including most acetylene hoses. The threaded connectors on the hoses are handed to avoid accidental mis-connection: the thread on the oxygen hose is right-handed, while the fuel gas hose has a left-handed thread. The left-handed threads also have an identifying groove cut into the nut. Gas-tight connections between the flexible hoses and rigid fittings are made by using crimped hose clips or ferrules, often referred to as 'O' clips. The use of worm-drive hose clips or Jubilee Clips is specifically forbidden.
We Stock
5m, 10m, 20m, 30m for Oxy, Acetylene & Propane
All hoses complete with either 1/4bsp or 3/8bsp fittings from manufacture
All our hoses have a non-return valve fitted
Gas Cutting & Heating Nozzles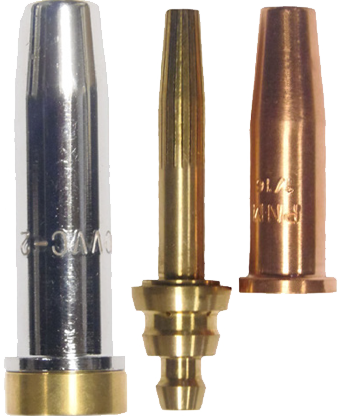 Propane Cutting Nozzles
Propane Nozzle Mix (PNM) nozzles consist of two pieces, a brass splined inner and a copper outer, with gas mixing confined to the nozzle. The nozzle preheat flame seat is set back from the nozzle face to facilitate preheating of the gas mixture prior to combustion, thus enhancing flame stability for precision cutting.
The VVC type of cutting nozzle is used with machine cutters and propane fuel gas to cut steels and other metals quickly and efficiently. Machine cutters are favoured for their speed, repeated accuracy and relatively clean cutting nature. VVC nozzles are available in a range of sizes, suited to cutting different types and thickness of metals.
A Wide Selection of PNM & VVC In Stock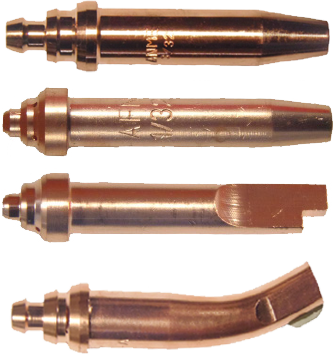 Acetylene Cutting & Gouging Nozzles
Acetylene Nozzle Mix (ANM) are manufactured from solid copper alloy. The mixing of the Oxygen and Acetylene gas is confined to the nozzle, such that the acetylene gas is held at low pressure, and is drawn into the nozzle by suction.
Oxy-fuel or flame gouging offers fabricators a quick and efficient method of removing metal. It can be at least four times quicker than cold chipping operations. The process is particularly attractive because of its low noise, ease of handling, and ability to be used in all positions. The gouging nozzle is designed to supply a relatively large volume of oxygen through the gouging jet. This can be as much as 300 litre/min through a 6mm orifice nozzle. In oxyacetylene gouging, equal quantities of oxygen and acetylene are used to set a near-neutral preheating flame. The oxygen jet flow rate determines the depth and width of the gouge.
A wide selection of Acetylene cutting and gouging nozzles In Stock
PHMN Heating Nozzle (Pepper Pot)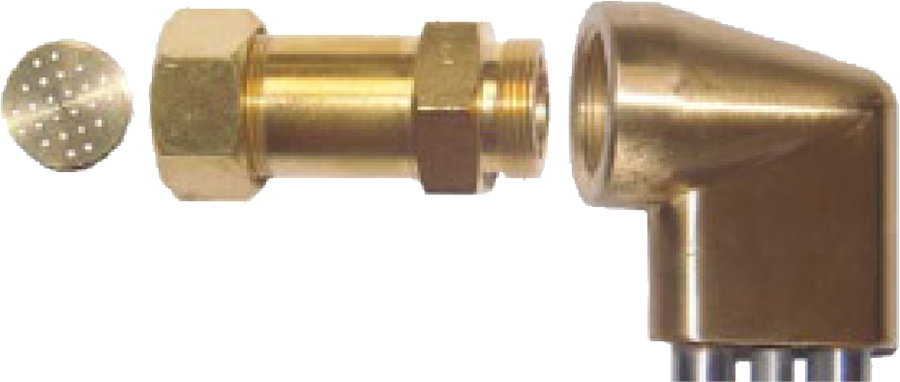 The PHMN pepper pot style heating nozzle is designed for use with the NM series cutting torches and type 5 shank & cutting attachment set up. Screws directly into the torch in place of the retaining nut.
We Stock
Heating Nozzle
Screws directly into the torch in place of the retaining nut
Designed for use with the NM series cutting torches
Super Heating Nozzles

Typical uses include heat large plates for forming operations, expanding items for fitment over shafts and other similar applications. Generally used with Excalibur Type 5 shank and propane heavy duty mixer and neck, alternatively using super heating adaptor which is fitted directly into extended length cutting torch, which provides higher heat output available from 1H to 5H.
For heating materials with Oxygen & Propane
1H = 72 000 - 163 000 Btu/H
2H = 102 000 - 188 000 Btu/H
3H = 183 000 - 361 000 Btu/H
4H = 236 000 - 406 000 Btu/H
5H = 250 000 - 618 000 Btu/H
Gas Cutting Accessories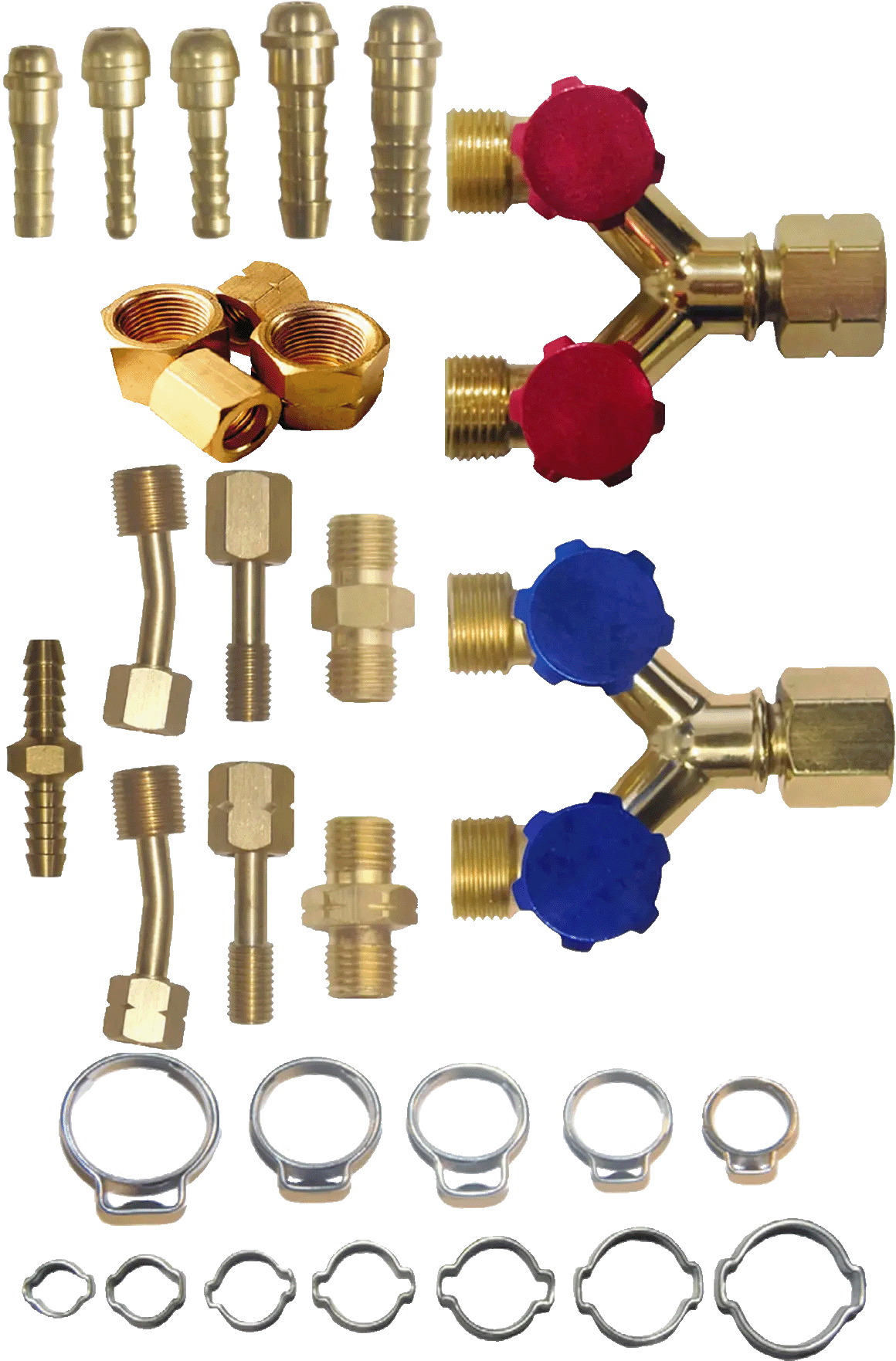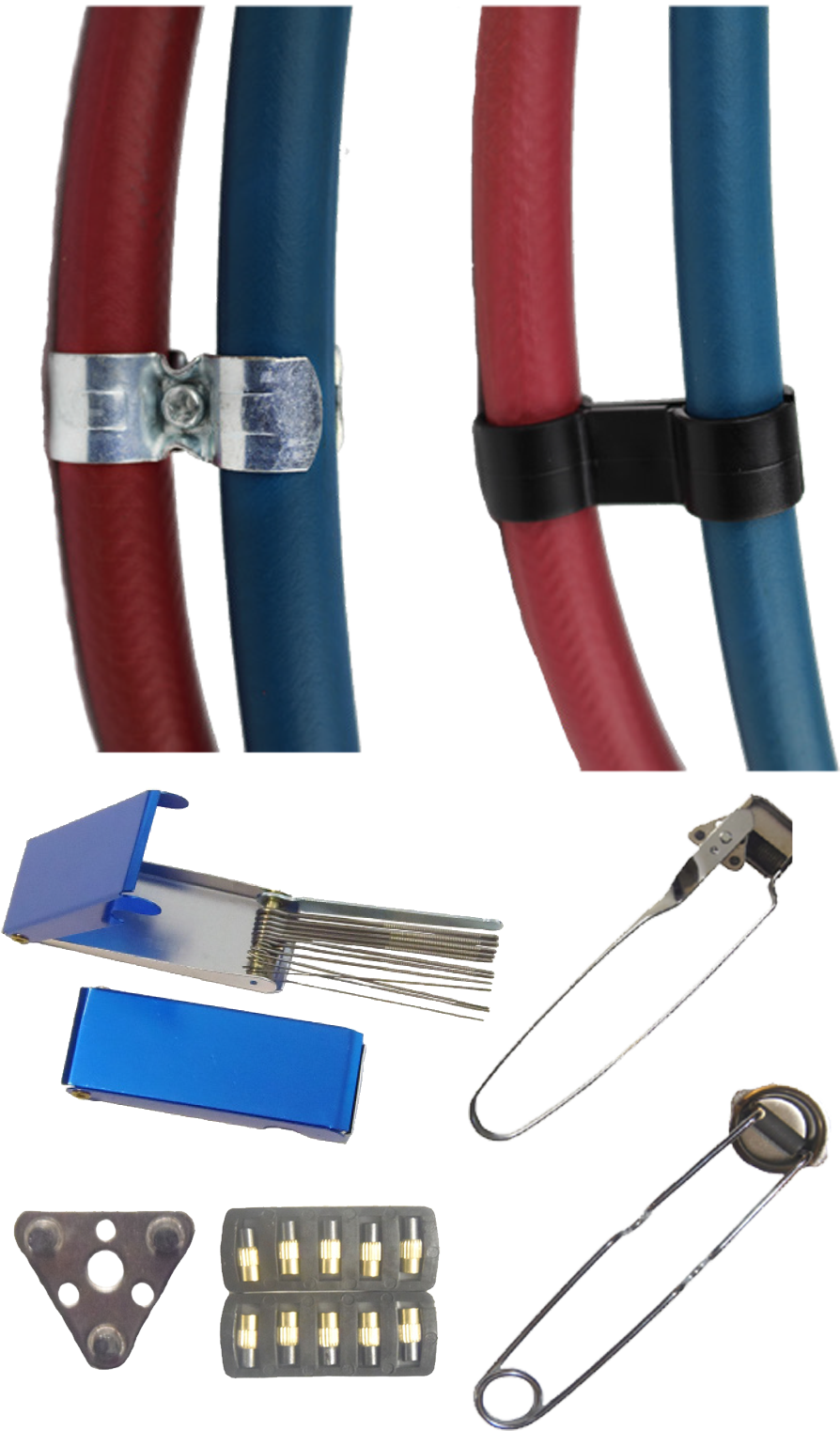 We Stock
Nozzle Cleaners
A Wide Variety of "O" Clip Sizes
Spark Lighters & Replacement Flints
oxy/propane or oxy/acetylene hose clips
"Y" Adaptors/Splitters for welding gas, Oxy & Propane/Acetylene
A selection of brass fittings such as Nuts, Reducers, tails
Duty Cycle Explained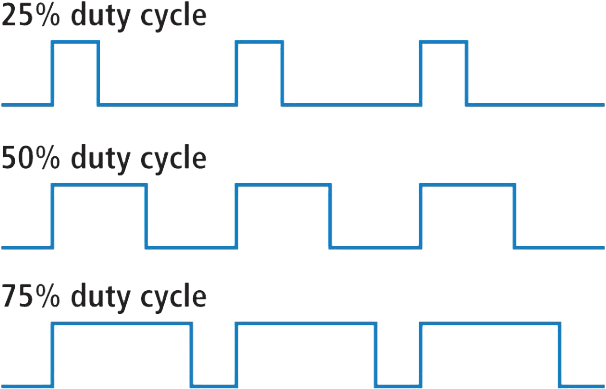 Duty cycle is the term given to the percentage of time when a machine will operate at the set amperage. For example, a particular welding machine may have a duty cycle of 200 Amps @ 60%. This means that for every 10 minutes, the machine works at 200 Amps for about 6 minutes. If you continue to weld past 6 minutes the amperage will drop slightly giving you less power which you will see in the arc as you weld. Duty cycle is not when machine "cuts out", this cut out will only happen when the machine is to hot and the thermal overload protection has kicked in to prevent the machine from being damaged or catching fire.
Back To Plasma Cutters