Industrial Welding Gas
Air Liquide Industrial Gas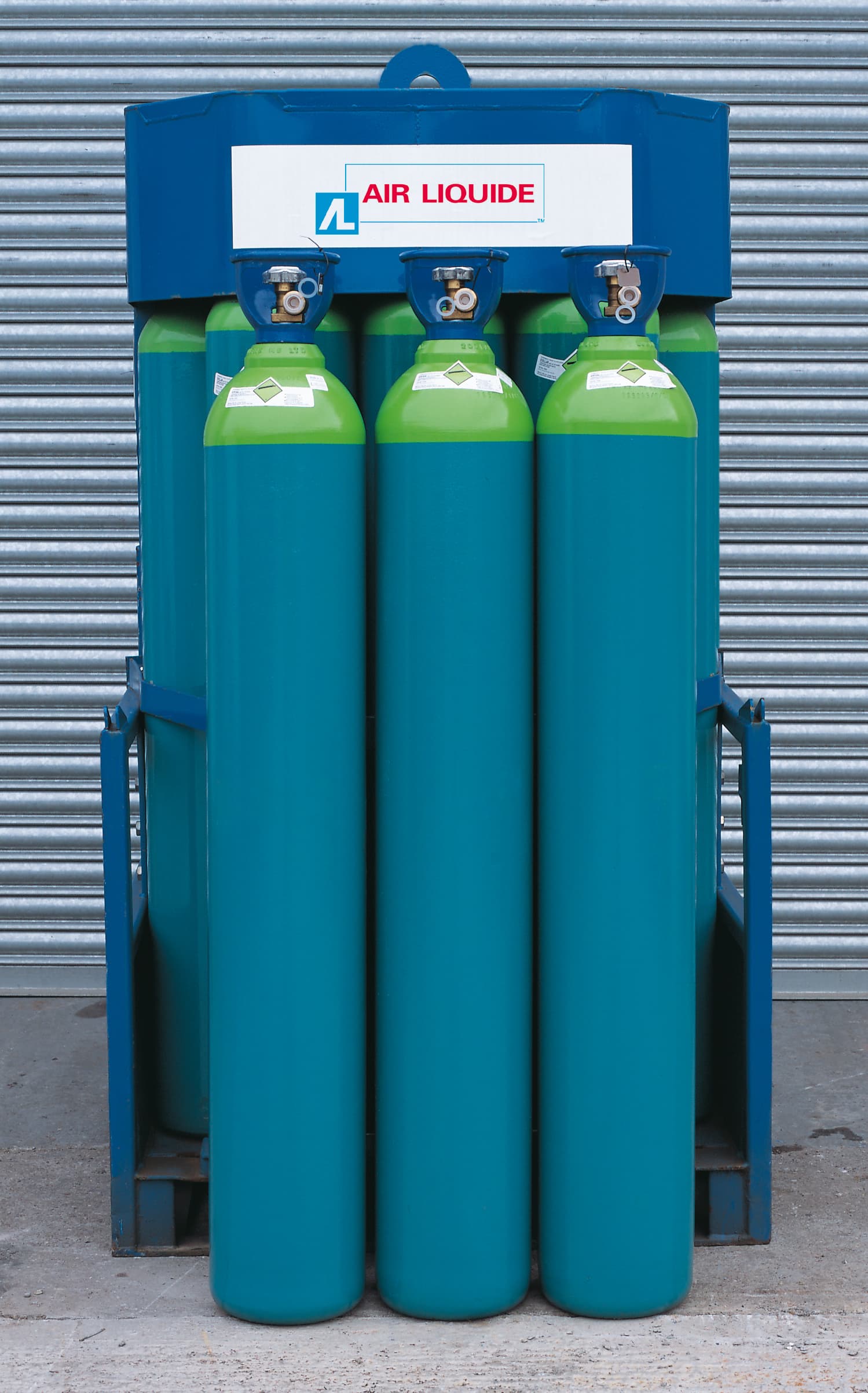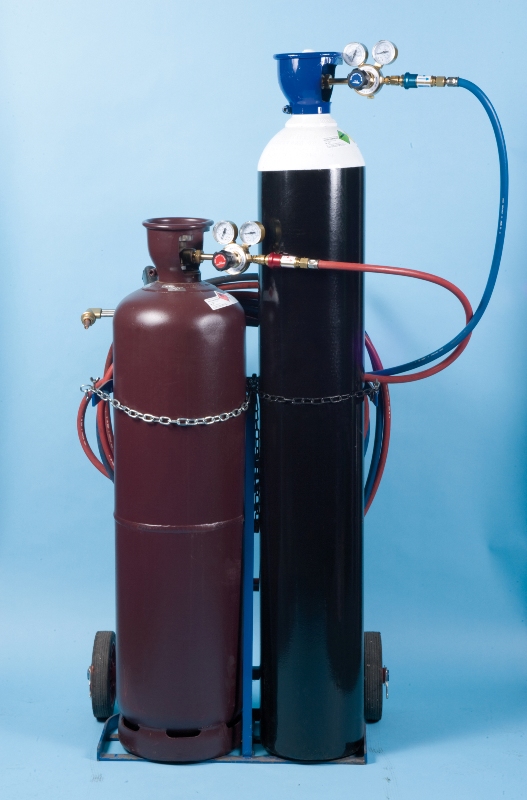 For over 100 years, the gases used for welding have been at the core of Air Liquide's offerings. Over time, their technologies and knowledge have evolved to meet the changing needs of consumers. Continually adapting gas solutions to meet the challenges of metal fabrication and assembly manufacturing processes. Air Liquide has all-in-one solutions that combine gas, process expertise, and application technologies with a commitment to performance. Their solutions are designed to optimize welding quality and costs through the use of a combination of inert gases (argon, helium or a mixture of both).
We Stock
Weldmix 8 L47 @ 200bar
Weldmix 5 L10 @ 200bar
Pure argon L47 & L10 @ 200bar
Acetylene L50 & L10
Oxygen L47 & L10 @ 200bar
Oxygen Banks
Nitrogen L47 @ 200bar
Rent Free Welding Gas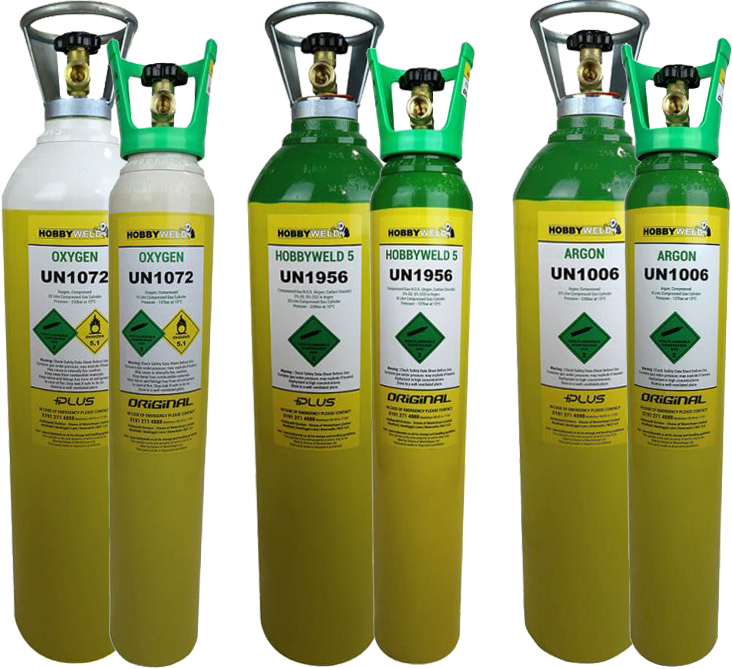 HobbyWeld
Many gas users do not require their cylinder/s every week of the year and understandably do not want the expenditure of a monthly rental for a cylinder that is not being used regularly. Hobbyweld provides the solution and it could not be easier. With Hobbyweld rent free gas cylinders, you can take advantage of high-quality gases in various refillable cylinders sizes. Its simple pay a one off, refundable* deposit and gas fill for your first cylinder, keep it for as long as you need and then refill it as often or as little as you need.
*a small administration charge is deducted from each deposit.
We Stock
9ltr 5% Argon/CO2 mix @ 137bar
20ltr 5% Argon/CO2 mix @ 230bar
20ltr 15% Argon/CO2 mix @ 230bar
9ltr Pure Argon @ 137bar
20ltr Pure Argon @ 230bar
9ltr Oxygen @ 137bar
20ltr Oxygen @ 230bar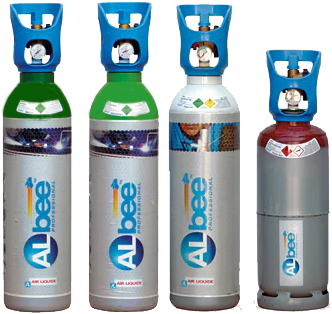 ALbee
ALbee, Air Liquide's line of portable, lightweight, rental-free gas cylinders for craftsmen and light professionals, are easy to use and easy to buy. After purchasing a cylinder, you need only to pay to exchange your empty cylinder for a full one, eliminating the hassle and expense of rental gas cylinders, saving you time and money. Featuring an ergonomic cap featuring a built-in regulator, ON/OFF lever, flow-rate wheel, content gauge, and easy connection, ALbee helps you work faster and provides increased mobility with better results.
We Stock
11ltr Pure Argon @ 200bar
11ltr 5% argon/CO2 @ 200bar
11ltr Oxygen @ 200bar
Acetylene 10ltr
Propane, Butane and Leisure Gas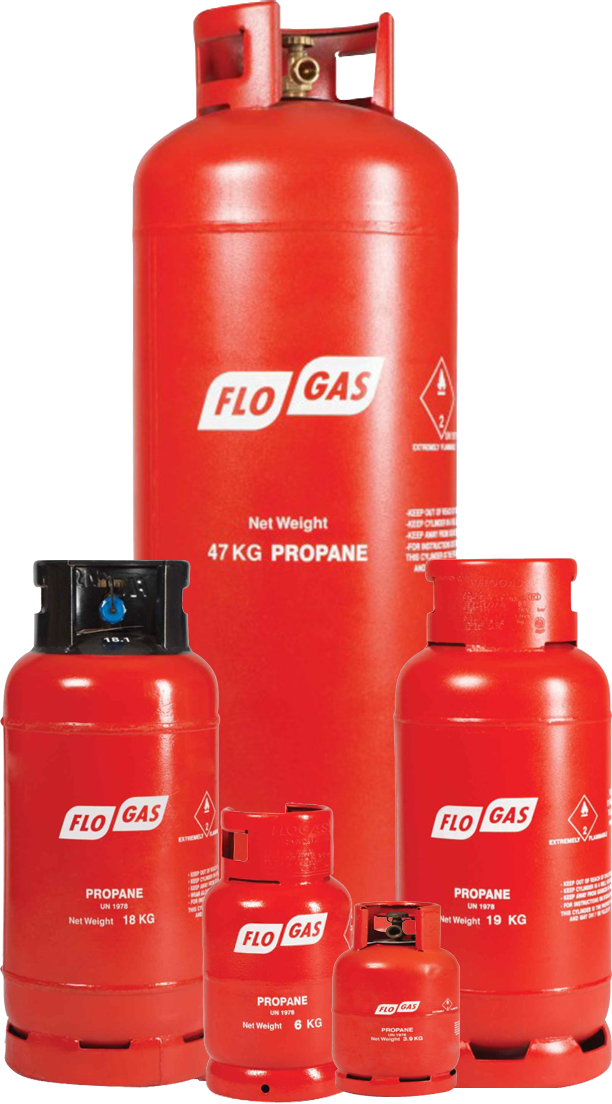 Propane
Propane has a lower boiling point, making it more suitable for outdoor storage – and is most commonly used for central heating, cooking, transport and commercial operations.
Propane For Cutting
Propane does not burn as hot as acetylene in its inner cone, and so it is rarely used for welding. Propane, however, has a very high number of BTUs per cubic foot in its outer cone, and so with the right torch (injector style) can make a faster and cleaner cut than acetylene, and is much more useful for heating and bending than acetylene. The maximum neutral flame temperature of propane in oxygen is 2,822 °C (5,112 °F). Propane is cheaper than acetylene and easier to transport
We Stock
47kg
19kg
6kg
3.9kg
18kg FLT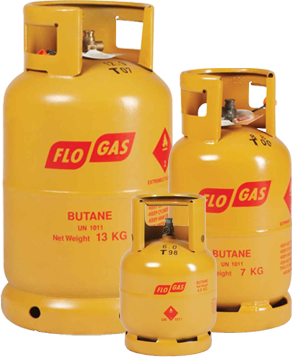 Butane
What is butane? Butane is also a form of LPG. It has a higher boiling point at -2°C, so is better suited to indoor use, and fuelling appliances like portable gas heaters and single-burner cooking stoves. Like propane, butane takes the form of a gas, so needs to be liquefied for storage.
Leisure Gas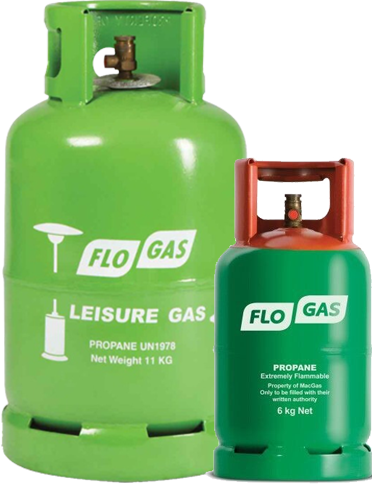 Leisure Gas for Barbecue and patio heaters.